18 East 34th Street
Savannah, Georgia 31401
The Seal of the Diocese of Georgia
The seal of the Diocese of Georgia was created by the first bishop, the Rt. Rev. Stephen Elliott, Jr. The seal shows the two dates with 1733 noting the arrival of the first Anglican priest along with Georgia's first colonists and 1823 as the date the Diocese of Georgia was organized with three parishes. The Diocese would not get our first bishop and the seal until 1841 when the diocese was comprised of the requisite six congregations needed to organize formally.
The seal shows an ox standing in front of an altar and a plow with the Latin motto in utrumque paratus agere et pati, meaning "always ready for either action or sacrifice," from which we derived "Always ready to worship and serve."
This seal is commonly found on all of the documents of the Diocese of Georgia from the mid 1800s through 1971. It is still found in needlepoint cushions for some of the Bishop's chairs in our churches and in stained glass at Christ Church, Frederica, on Saint Simons Island.
Since April 1971, we have had both the seal and a coat of arms as authorized symbols for the Episcopal Diocese of Georgia.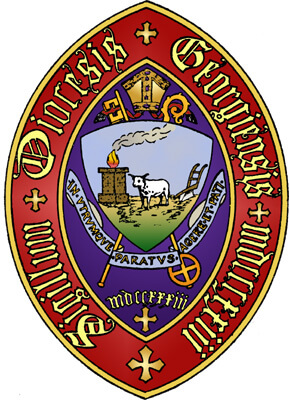 Coat of Arms of the Diocese of Georgia
Harry D. Temple designed the Coat of Arms of the Diocese of Georgia. Temple was for five years the commander of the Institute of Heraldry of the United States Army and the designer of the Presidential Medal of Freedom. Col. Temple delved deeply into the history of the diocese in order to include symbols evocative of the life of the Episcopal Church in Georgia.
The official blazon, which couches the description of the arms in ancient but to the herald specific and accurate terms, is:
The symbolism and description in modern language is this: The wide wavy-edged diagonal band is gold and is taken from the Elliott coat of arms in honor of the Right Reverend Stephen Elliott, the first bishop of Georgia. The two thin parallel stripes are of silver and are memorials to Dr. Thomas Bray, to whom the Episcopal Church in Georgia traces its beginning, and Dr. Henry Herbert, the first English priest in Georgia.
The boar's head is from the arms of General James Oglethorpe, who brought the Church of England to Georgia in 1733. It is colored red.
The two roses, whose petals are silver with sepals and pistils of gold, symbolize the Church's service to Georgia – the Cherokee rose is the State flower.
The rose at the upper right represents the Diocese of Georgia of the Episcopal Church in the United States, while the one at the lower left memorializes the Diocese of Georgia of the Episcopal Church of the Confederate States of America.
The background of the shield is blue, chosen in part for its general symbolism of truth, honor and enlightenment.
Surrounding the shield are the traditional ecclesiastical symbols of the Holy Catholic Church, miter, crozier and key. This was adopted by Bishop Albert Rhett Stuart and the Diocesan Council at their April 1971 meeting as the result of the work of Bishop Paul Reeves, who was then the Bishop Coadjutor. A Church in Georgia article said, "The Diocese has never had a coat of arms, Bishop Reeves later pointed out. Instead, it has been using a seal in many places where a coat of arms would have been more appropriate. The Bishop Coadjutor was involved in the design of coat of arms for three Florida churches of which he was rector."