Let your light shine
Convention 2022
18 East 34th Street
Savannah, Georgia 31401
The 201st Diocesan Convention will be held November 10-12, 2022 at the GSU Armstrong Center in Savannah.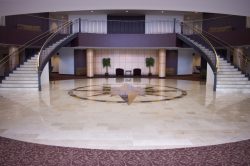 The atrium of the GSU Armstrong Center
The Diocese of Georgia will meet in Convention this November in Savannah. The convention is currently planned as a primarily in-person meeting with some elements, such as the Convention Eucharist, offered via livestream. The Diocese last met in Savannah in 2015. 
Hotel Information
DOWNTOWN
Courtyard by Marriott – $199+tax + $20 valet
415 West Liberty St. Savannah, Georgia 31401
912.644.6880
To book online, click here.
MIDTOWN
Fairfield Inn & Suites by Marriott – $159+tax + $5 per day parking
5801 Abercorn St, Savannah, GA 31405
912-298-0800 
To book online, click here.
The group rate for hotels is only available for a limited time, so we encourage you to make reservations as soon as possible.
Let your light shine
"Who are we not to be fabulous?" 
We know Jesus, crucified and resurrected who brings new life, healing, and a peace beyond understanding. There is no reason for the Episcopal Church to be a well-kept secret.
We as individuals and as congregations have the light of Christ within us and we share that light with others. Jesus knew that his followers might shrink back from using their full selves and all the gifts of the Holy Spirit they bring to the needs of a hurting world and so in the Sermon on the Mount, he said,
"You are the light of the world. A city built on a hill cannot be hidden. No one after lighting a lamp puts it under the bushel basket, but on the lampstand, and it gives light to all in the house. In the same way, let your light shine before others, so that they may see your good works and give glory to your Father in heaven" (Matthew 5:14-16).
As individuals and as congregations, we are to let our light so shine that others will give glory to God. At this November's 201st Convention of the Diocese of Georgia, this theme will guide us as we share ideas from your siblings around central and south Georgia. Not everything that works for another church in its community will be right for you. But cross-pollination has been fruitful for us in recent years through projects taken on for our Church Development Institute (now Leading with Grace) as well as in sharing ideas from Invite-Welcome-Connect. 
There is a lot of wisdom in the Diocese of Georgia and we'll share our experiences so that we might more fully share the Light of Christ with our communities.