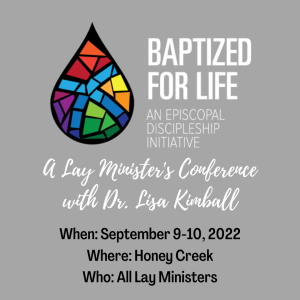 "Baptized for Life: A Lay Ministers' Conference" will take place September 9-10 at Honey Creek! This conference is intended for any lay person in the Diocese who is in any active ministry in their congregation. Examples of such lay ministries include those who assist or lead worship, serve on the Vestry, serve on committees, teach Sunday School or lead youth activities, serve on the Altar Guild, care for the buildings and grounds, lead outreach activities, and more. This conference will be led by Dr. Lisa Kimball, the Vice President for Lifelong Learning and the James Maxwell Professor Chair of Lifelong Christian Formation at Virginia Theological Seminary. "Dr. Kimball has focused her teaching and research on lifelong, life-wide, and life-deep discipleship and Christian vocation…She is a passionate advocate for lay ministry, the full inclusion of all generations, digital literacy, and leaders who are confident teachers of the faith." For more information about Dr. Kimball's background and history, click here.
This conference will focus on the ministry of the laity, including its joys and challenges especially over the past two years. It will frame our various calls in the context of our Baptismal identity and the vows we make at Baptism, and will give participants an opportunity to think toward the future in their own specific contexts. 
There will also be time to rest, relax, worship together, and enjoy simply being together at Honey Creek! The event begins with Evening Prayer at 5:30 p.m. on Friday and ends at 3:00 p.m. on Saturday. Registration is available here. You may choose to register for a single or double occupancy lodge room. If you choose double occupancy, be sure to name your roommate in the registration.
Contact Joshua Varner, Canon for Program and Liturgy, at jvarner@gaepiscopal.org with any questions about this conference.