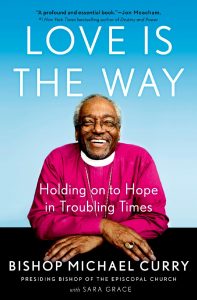 The Diocese will read together Love is the Way by Presiding Bishop Michael Curry as the 2021 1Book1Diocese pick. 
Each week is mapped out with a discussion guide that you can find here:
Love is the Way Discussion Guide
You can do this with your congregation, a small group, or on your own. The book can be found at any bookseller or be downloaded via Audible.
Bishop Curry will be joining us at the end of Eastertide to do a live Q&A about his book through Zoom. Look for more information in future editions of From the Field.