18 East 34th Street
Savannah, Georgia 31401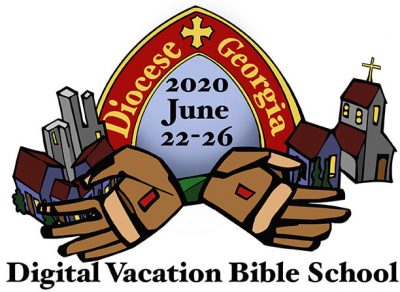 Welcome to Vacation Bible School! Here you will find all the resources you will need for our diocesan-wide activities.
VBS will begin on Monday, June 22 and end on Friday, June 26. Each day we will begin with an opening session at 9:30 am EST, facilitated by the Rev. Canon Joshua Varner, Canon for Children and Youth.
Share with us!
We'd love to see how you're doing VBS at home and to share that with the diocese. To send us your photos and videos, upload them to this folder. You can also tag us on Instagram or Facebook!
VBS Schedule of Events
Each day during the Zoom call, we're splitting into small groups for discussion about the story. During the small group time, the adult facilitators are asking the participants questions to go a little deeper in the story. If you're participating in VBS outside of the Zoom call and need some guidance to have your own reflection time, here are the questions we're asking the participants:
I wonder what was your favorite part of the video?
I wonder what was the most important part?
I wonder where YOU are in this story?
I wonder if we could take any part out and still have all the story we need?
How can my family participate?
We're asking each child to register for the week. You may register at the link found here. Feel free to follow along at the assigned times or come back to it later! The videos will live here and on our Facebook page for you to visit when it works for your family's schedule.

How do I find out more information?
If you'd like to know more, follow us on social media and look in your email inbox for the next edition of our weekly e-newsletter, From the Field. For additional questions, contact the Rev. Canon Joshua Varner at jvarner@gaepiscopal.org.